Rejuvenated and forward-looking, this stunningly beautiful Central American country has momentum building that landed it a spot in our Learn category. 
El Salvador's idyllic beaches are catching the attention of professional surfers from around the world as it works hard to establish itself as Surf City. The country is quietly becoming the place where those in the know come to catch waves and hone their surfing skills.
There's so much to learn about this country. Lonely Planet guidebook author Paige R. Penland plans out your four-day getaway to its coastal waters, quaint towns and volcanoes.
I've visited El Salvador a dozen times since 2006, when I was lead author on Lonely Planet Nicaragua & El Salvador. I'll be taking my 9-year-old son on the next trip, to visit Isla de los Pájaros and the epic waterparks for which this country should be better known. (Search for Apuzunga, Turicentro Atecozol and Canopys del Rio Sunzal to see what I mean.)
Why I think you should visit El Salvador
El Salvador offers almost everything travelers to Latin America are looking for, just three hours by plane from Miami: sunny beaches, quaint colonial towns, stunning volcanoes, colorful handicrafts, low prices and arguably the finest cuisine in Central America.
It is compact, with dramatic topography and excellent (main) roads. You could literally surf La Libertad all morning, relax over lunch in Spanish Colonial Suchitoto and watch sunset from a chilly 8000ft (2400m) at Hostal Miramundo – and only spend about four hours total in the car. 
All of this makes El Salvador an easy escape for North Americans on a long weekend. If time is no object, however, two to four weeks would be ideal.
Budget travelers can enjoy El Salvador on $40 per day, and much less if you plan carefully. Mid-range travelers will be comfortable on $100 per day (not including rental car). Luxury lovers will find a small selection of excellent resorts and restaurants for about half what they'd pay in more-popular Latin American destinations.
Travelers may read the international criticism of El Salvador's current government and worry that their money is supporting it. There is some truth to that. On balance, however, I think tourism favors the little guy – Jack Ma taught himself English as a tour guide, after all. Think before you spend, and try to support local businesses with El Salvador's best interests at heart.
El Salvador's official currency has been the US dollar since 2001, another convenience for US travelers. In 2021, President Bukele made Bitcoin El Salvador's second official currency, and it's widely accepted through smartphone apps. That decision was controversial, to say the least – yet tourism has since grown an astonishing 30%.
I appreciate the Bitcoin bump because not every article about El Salvador begins with "war-torn" anymore. It's not. This is a small country with big dreams, still willing to believe in the future. And that's the real reason why you should come. 
Start with a perfect day in the capital
This itinerary assumes travelers have rented a car ($40–80/day). If you use public transportation, double travel times or check online bus schedules.
Our journey begins at Romero International Airport – or, if you've already been relaxing with the sun and surf along El Salvador's 186mi (307km) coastline, 20 minutes away in La Libertad. Whether you've been here all week or just arrived, we're headed up to the capital, San Salvador. 
10am – Pupusas for breakfast 
Pull off the highway in Olocuilta, where a tidy strip of pupuserías serve up stacks of the city's signature rice pupusas, more delicate and refined than the more widely available corn masa versions of El Salvador's cheap, filling national dish. If you're looking for a more elegant brunch, enjoy gourmet tamales, omelets and tost secreto (Salvadoran-style avocado toast) at Tu Jardín Secreto. The relaxing garden setting is in Planes de Renderos, a popular escape from the city with parks, horseback rides and the family-friendly, 20-minute hike up Puerta del Diablo, a startling rock formation with views to the Pacific Ocean from the top.
11am – Arrive in Colonia Escalón
Our base in the capital is posh Colonia Escalón, with upscale shopping, dining and accommodation options. After coffee at Tipicos Margoth, catch a cab to the Museum of Anthropology for an overview of El Salvador's history, including pre-Columbian relics, Spanish Colonial art and exhibits that explore modern challenges, from the civil war to gang violence and mass emigration.
From there, it's a short walk to the National Craft Market, where artisans sell quality handicrafts from around the country, including comfortable hand-woven hammocks, clever ceramic dioramas from Ilobasco and the colorful naive folk art of La Palma – which you'll see firsthand tomorrow.
2pm – Head to Centro Historico
Take a taxi to the Centro Historico, home to the National Palace, National Theater and Metropolitan Cathedral, the final resting place of St Oscar Romero. As you explore the city center's parks, plazas and markets, don't miss the somber Monument of Memory and Truth in Parque Cuscatlán, engraved with the names of those lost during El Salvador's civil war (1980–92), and be sure to step inside Iglesia El Rosario to see the symphony of rainbows its windows play upon the sculptural interior.
4:30pm – Check out Volcán San Salvador
Grab a cab to the top of Volcán San Salvador ($20, 40 minutes) and watch the sunset and city lights over exquisite grilled meats and seafood served with sweet potato biscuits at Las Brumas.
9pm – Enjoy San Salvador's nightlife
There's time for a disco nap before the country's best nightlife begins. Look forward to an ever-changing assortment of clubs and bars: enjoy laid-back city views at The Rooftop, dinner and live music at Republik and all-night dance parties at AliVE. 
A perfect day in the Central Highlands
10am – Arrive at Suchitoto's tiny Puerto San Juan, a cheerful cluster of souvenir stores, restaurants and a dock overlooking Lake Suchitlán, just 45 minutes from the capital. Boats ($35) offer one-hour tours around the islands, including Isla de Los Pájaros ("Bird Island"), its trees shrieking and singing with the voices of some 400 species of mostly migratory birds: jabiru storks, seagulls, cormorants, pelicans and many more. 
Noon – Lunch at Villa Balanza
After lunch at artsy Villa Balanza, it's time to check in at the meticulously restored, 200-year-old mansion that is now one of El Salvador's most luxurious properties, Los Almendros de San Lorenzo. The courtyards are hung with marvelous art and Moorish details, and filled with gardens and a sparkling pool: an architectural gem even by Suchitoto's high standards. 
1:30pm – Stroll through the city
Just strolling the cobbled streets of this breezy Spanish Colonial city is a delight. The rich blue textiles fluttering from the doors are dyed with indigo, grown here since Pipil Mayans ran the place. Arte Añil, across from picturesque Iglesia Santa Lucia, offers classes (90 minutes, $100 per group) where you can try your hand at this ancient art.
4pm – Mayan-influenced art in La Palma
An hour north of Suchitoto is La Palma, birthplace of the vibrant, Mayan-influenced naive art that has become synonymous with El Salvador itself. It was pioneered by artist Fernando Llort in the 1970s to help local artisans thrive; today, you can visit workshops covered with murals, and watch artists create the vibrant pieces from wood, glass and other materials. After Llort's most famous piece, on San Salvador's Metropolitan Cathedral, was destroyed in 2011, artists recreated it using digital mapping and projected it onto the facade.
9pm – Back to Los Almendros for Dinner
Although Suchitoto has several excellent restaurants, we'll return to Los Almendros for dinner, where chefs use Salvadoran ingredients and French techniques to create award-winning recipes. Try the mariscada, a traditional Salvadoran seafood stew with lobster and cream; the dijon chicken baguette; or the vegetarian lasagna. If you're game, Suchitoto's nightlife scene is small but always festive.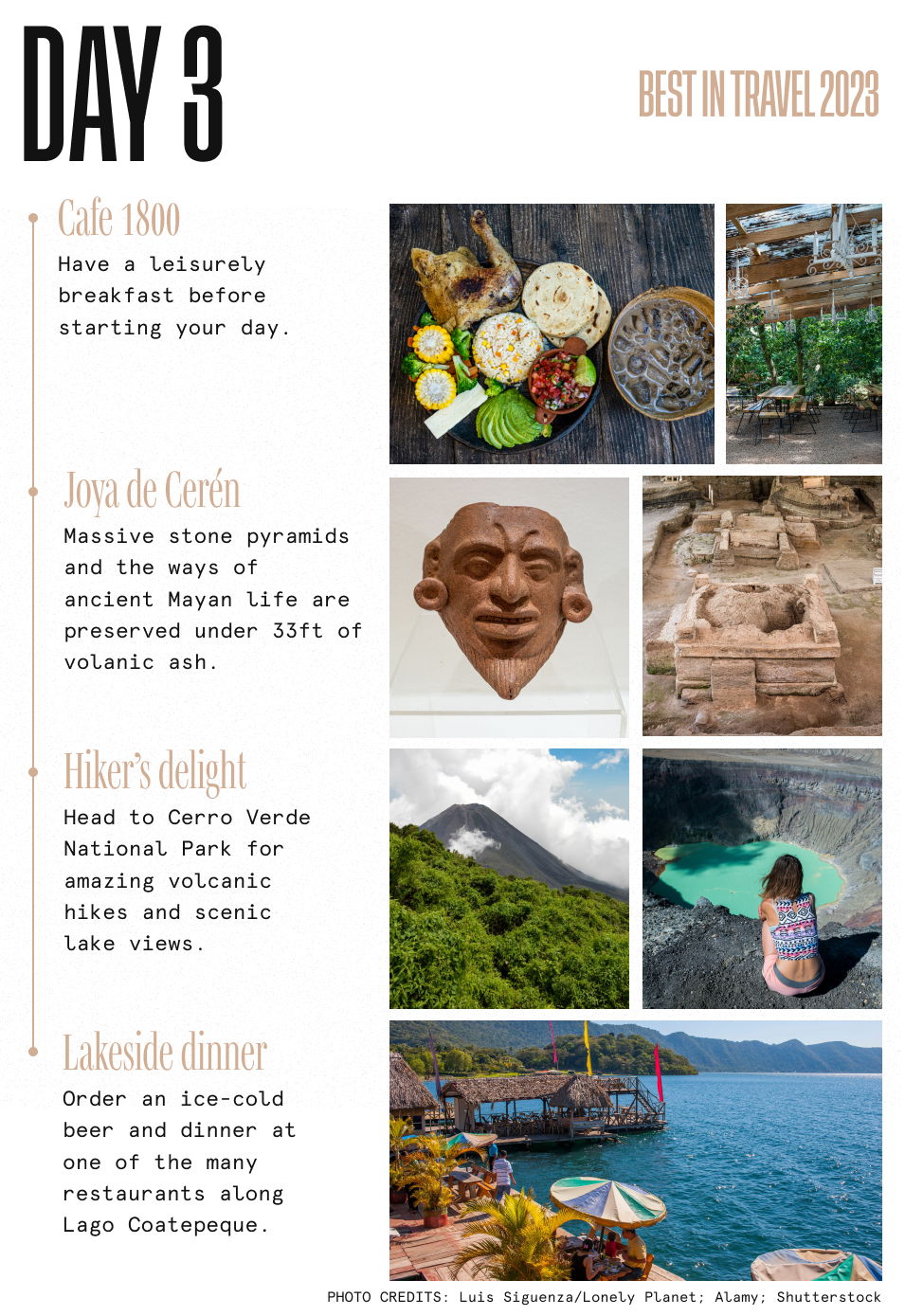 Pyramids and Volcanoes
After a leisurely breakfast at Café 1800, it's an hour to Joya de Cerén, also called Central America's Pompeii. While you've probably seen the massive stone pyramids and ballcourts of the Classical Mayan capitals (if not, the ruins of Copán are 5 hours north of Suchitoto), the modest lives of Mayan villagers are mostly lost to time.
Except here. Preserved since 600CE beneath 33ft (10m) of volcanic ash, small, lovingly decorated adobe homes, a temezcal (sweat lodge) and the oldest cultivated yuca (manioc) make this one of Central America's most important archaeological sites. Fifteen minutes away, San Andrés was the regional Mayan administrative center, with small stone pyramids and the remains of a Spanish Colonial indigo-processing facility.
1pm – Volcanoes in Cerro Verde National Park
It's another hour to Cerro Verde National Park, with three magnificent volcanoes and several hikes, including an easy half-mile (1km) loop with unforgettable views. Athletic travelers can arrange steep, three- to six-hour guided hikes ($9) to the top of either Izalco Volcano's barren, steaming cinder cone, or to Santa Ana's nested calderas and scenic lakes. These hikes leave at 10am and must be done with a guide, which might mean shifting your itinerary.
 
4pm – Stay overnight at Lago Coatepeque
There are great places to stay in the park, but we're headed to the enormous (10 sq miles/25 sq km), sparkling crater lake you were admiring on your hike, Lago Coatepeque. It's another impossibly scenic hour in the car to the lakeshore, which is lined with hotels, restaurants and bars, most with swimming docks
Lodging along the lakefront runs from $10 to $200 per night, so you'll have a pick for your budget. Dinner at La Octava Maravilla costs about $20 – and it's mandatory. I'll be having the mojarra rellena, a whole fried fish stuffed with shrimp and other shellfish. 
After dinner, order an ice-cold beer at one of the lakefront bars. The party can go all night.
Stop and smell the flowers in El Salvador
After breakfast on the lake, it's another hour to Entre Ríos Ecopark ($3), outside the town of Izalco. Slip into one of the natural hot and cold pools to relax, or try the water slides. When you're ready, order brunch right to your hammock.
1pm – Visit Ruta las Flores
Ruta las Flores is El Salvador's most popular inland attraction, a strand of lovely little towns and accessible natural wonders in the coffee-growing highlands between Sonsonate and the Guatemalan border. If it's Saturday, we'll stop at Juayúa's famed Gastronomic Festival, which runs every weekend with stands selling styrofoam plates piled grilled meats, spiced prawns and tasty rice dishes, and where souvenirs, cocktails and artwork are for sale while live music plays and "Zorro" offers horseback rides. Otherwise, it's onto Ataco.
3pm – Handicrafts shop at Axul Artesanía
After coffee at El Jardín de Celeste, we'll explore the ancient city, making sure to visit Axul Artesanía. The handicrafts shop is an experience in itself, with working looms and unique paintings that flirt with high art. The owners are also responsible for for Ataco's superb collection of selfie-friendly murals. Later, we'll learn more about the coffee growing all around us on El Carmen Estates' plantation tour ($6; 75 minutes).
6pm – Drinks at Casa Degraciela
Wherever we dine in Ataco, we'll finish with drinks in the courtyard of Casa Degraciela, a sprawling, 150-year-old coffee plantation mansion that's now a luxurious B&B. Someday we'll come back, but tonight we've reserved the Japón suite at Santa Teresa Hot Springs Resort, just 20 minutes away. 
7pm – Enjoying the private hot spring
We splurged on this spacious suite because it comes with a private hot spring, drawn from the same natural thermal waters that flow like a river through the resort gardens and surrounding coffee plantation. Relax beneath the stars as you plot your return to El Salvador.